It is a fact that an ill fitting saddle will cause problems from the rider's neck, shoulders, spine, lower back, hips, knees, all the way to your ankles. Your horse will suffer basic movement problems turning left or right, short striding in front, or an inability to canter properly. Add to this pain in your horse's back, shoulders and legs, even down to un-even wear on the shoes.
And, of course, your instructor shouting at you to sit up straight when you feel that that is just impossible for you to do.
Oh, the joys of being a horse owner.
Most of our saddle fitting work comes from recommendations ( please see Testimonials Page). These can be friends of existing customers, instructors, equine chiropractors, vets, or via the Society of Master Saddlers website.
With two Society of Master Saddlers Qualified and Registered Saddle Fitters, Lee Valley Saddlery offers a complete professional on-site saddle fitting service with any necessary adjustments, where possible, carried out on-site so you would not be without your saddle.
Also, if you have a saddle that you have bought elsewhere on the advice of a friend and you would like an independent professional assessment of the saddle's fit and suitability for you and your horse's needs, we are happy to check it for you. Perhaps it's a saddle that you have had for many years and find it extremely comfortable, your horse is going really well, but you just want it checked for peace of mind. Or maybe you are looking for a new saddle for a new horse. We will help you to achieve the goals you are striving for.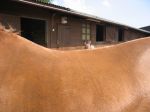 All saddle assessments include a written report on our findings plus a set of templates of your horse. These can be updated at anytime to monitor any changes in your horse's shape due to ongoing physio work or general changes due to work routine.
We also supply bespoke saddles and have a supply of quality used saddles to aid you and your horse.
If you wish to know more about our services give us a call on 01896 750004
or Click here to use our Contact Form and tell us all about your horse.
Not near a phone? Click Here and we can call you!